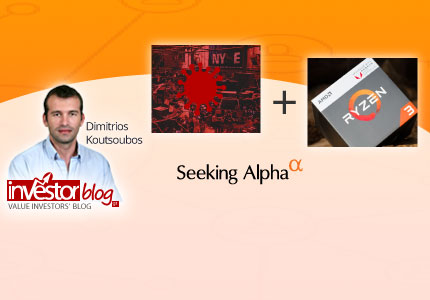 By Dimitrios Koutsoubos
Recently, I uploaded two new articles on Seeking Alpha. In the first one, I updated my "short" thoughts on AMD. In the second one, I wrote about the coronavirus situation and how it is connected to the stock market in four steps. The AMD article is only available to Seeking Alpha Pro users, but the article about the coronavirus is still open. Read it before it gets locked.
Coronavirus And Stock Market: The 4 Steps
The stock market and the illness are connected, but not in a simplistic way, rather containing four major steps linking them. The biggest fear is that the situation can possibly trigger other events in fragile parts of the economy that can lead to a major economic crisis. CAPE ratio shows that the S&P 500 is still expensive, despite the recent steep decline.
(read the full article before it gets locked)
Updating My 'Short' Thoughts On AMD
Having revisited the facts, I reinforced my views about my strategy that utilizes far-out-of-the-money options, despite the fact that in the first AMD article, I had underestimated some of the monopolistic power that the company has in the x86 7nm space.The rise of the stock offers the opportunity to extend the expiration in better terms than before. COVID-19 mega-catalyst can make things evolve faster and before the options' expiration.
(read the full article, only available to SA PRO users)
Did you enjoy the articles? Don't forget to subscribe!

Dimitrios Koutsoubos

*Content presented on Investorblog does not present any recommendation for stock transactions. All investors are advised to conduct their own independent research into individual stocks before making a purchase decision.